Convergence of technologies has become the order of the day! It wasn't too long ago that your local television cable operator started offering internet connections off the same cable, in their efforts to fight back competition due to the emergence of CAS and service providers like TATA SKY and Dish TV. Similarly, it's been a while that televisions could be doubled up as a monitor to surf the internet and the computer to view television channels using TV Tuner cards. Now, it's the turn of IPTV to power your computing machine with television networks. No more grainy YouTube videos to catch a glimpse of Sambhavna Seth on Bigg Boss 2, no more shelling out extra bucks for TV Tuner Cards!
UTStarcom, announced a contract with Aksh Optifibre, to deploy UTStarcom's end-to-end RollingStream® Internet Protocol TV (IPTV) solution in 20 cities on Bharat Sanchar Nigam Limited's ADSL 2+ network, a UTStarcom-built multi-play infrastructure that currently supports more than 75 percent of the active wired lines in India. UTStarcom is known to sell its IP-based, ene-to-end networking solutions to operators in both emerging and established telecommunication markets around the world.
The IPTV solution, which will be made with Aksh's iControl service, is aimed at offering interactive entertainment such as time-shifting, video-on-demand (VOD), interactive gaming, live television voting and distance learning programs. Aksh is an optical fiber cable manufacturer in India and one of the first companies to set up its own fiber manufacturing units in the country.
Including BSNL as a partner in the deal should not come as a surprise because the public sector company has recently been trying very hard to shed its traditional image and get uber cool with the techy crowd in the country. Moreover, BSNL has the widest and longest range of wired connectivity in the country and this should help in reaching far and wide into the most rural sections.
Aksh Optifiber has already launched the very first IPTV in rural India (Kukus, Jaipur district) and plans to make the service available in the rest of the state's cities in the next 6-8 weeks.
The highlight of iControl is the interactivity that's rolled in with it. The viewers can watch programs at their own suitable time, order 120 Hollywood and Bollywood titles at no extra cost!  Moreover, since the medium of data transfer is an already existing infrastructure from BSNL, the subscription costs should also be significantly less than the leading wireless content providers.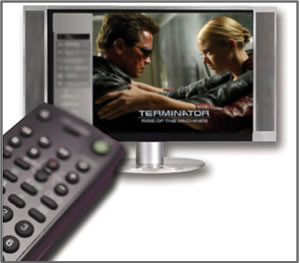 According to Dr. K.S. Choudhari, MD, Aksh Optifibre Ltd,
"Until now rural India was untouched, with limited medium of entertainment…. This expansion of the service from urban to rural markets highlights the growing demand for convergent services and interactivity in television viewing in India."